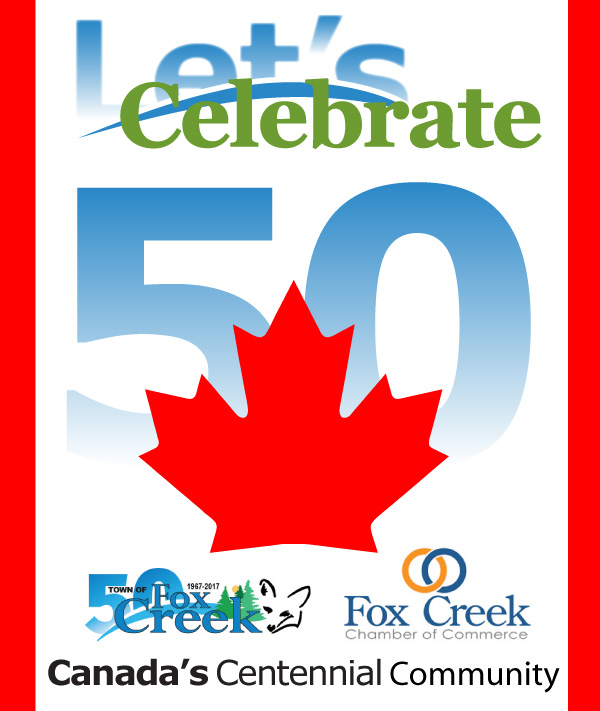 Update: July 1, 2017
Tickets for the Community Dinner have sold-out. However, non-ticket holders are welcome to attend the time capsule reveal and family dance,  following dinner, at approximately 7 p.m.
If you are seeking tickets, or are unable to use the tickets you have, please leave a note in the comment section.
July 1
8 – 10 AM Pancake Breakfast (Horizon North)
10:30 – 11:30 AM Parade – *update
Registration at the golf Course parking lot – 10:00
Parade proceeds down Kaybob towards the Visitor Information Centre.
Noon Opening Ceremony
12:30 BBQ lunch (Freson Brothers)
1-5 PM
Face painting (3 Boys )
Kiddy games (prizes by Encana and FC Legion)
Weekend DJ (Trilogy)
Bouncy Castles (Lions Club)
Marnevic Carnival ride (Marnevic)
5 – 11 PM Kick off Supper (Gordon Food's and ATCO) SOLD OUT
Tickets are not required for the evening events following dinner. Please join us at 7 PM.
Family Dance and Time Capsule reveal
Family Dance Band (Town of Fox Creek)
Beer Gardens
11 PM Fireworks (Integra Tire and Fox Creek)
July 2
8-10 AM Pancake breakfast (Apache and Repsol)
Noon Soap Box Derby races (OK Tire, Fox Creek School)
Let's Celebrate Our Sponsors