PRICES REDUCED FOR A LIMITED TIME


23-Lot New Subdivision                 Google Map
| Single Family Lots | | Reduced: $9.75 - $7.16 /sq ft -- Limited Time Offer |
| --- | --- | --- |
| Lot 18, Block 45 (600 1 Street) | 8,252 sq. ft. | NOW $59,084.32 |
| Lot 17, Block 45 (602 1 Street) | 8,520 sq. ft. | NOW $61,003.20 |
| Lot 16, Block 45 (604 1 Street) | 8,520 sq. ft. | NOW $61,003.20 |
| Lot 15, Block 45 (606 1 Street) | 8,520 sq. ft. | NOW $61,003.20 |
| Lot 14, Block 45 (610 1 Street) | 8,520 sq. ft. | NOW $61,003.20 |
| Lot 13, Block 45 (612 1 Street) | 8,520 sq. ft. | NOW $61,003.20 |
| Lot 12, Block 45 (614 1 Street) | 8,520 sq. ft. | NOW $61,003.20 |
| Lot 11, Block 45 (616 1 Street) | 8,520 sq. ft. | NOW $61,003.20 |
| Lot 10, Block 45 (618 1 Street) | 8,251 sq. ft. | NOW $59,077.16 |
| Lot 11, Block 44 (288 8 Avenue) | 8,198 sq. ft. | NOW $58,697.68 |
| Lot 10, Block 44 (290 8 Avenue) | 8,198 sq. ft. | NOW $58,697.68 |
| Lot 9, Block 44 (619 1 Street) | 8,251 sq. ft. | NOW $59,077.16 |
| Lot 8, Block 44 (617 1 Street) | 8,520 sq. ft. | NOW $61,003.20 |
| Lot 7, Block 44 (615 1 Street) | 8,520 sq. ft. | NOW $61,003.20 |
| Lot 6, Block 44 (613 1 Street) | 8,520 sq. ft. | NOW $61,003.20 |
| Lot 5, Block 44 (611 1 Street) | 8,520 sq. ft. | NOW $61,003.20 |
| Lot 4, Block 44 (609 1 Street) | 8,520 sq. ft. | NOW $61,003.20 |
| Lot 3, Block 44 (607 1 Street) | 8,520 sq. ft. | NOW $61,003.20 |
| Lot 2, Block 44 (605 1 Street) | 8,520 sq. ft. | NOW $61,003.20 |
| Lot 1, Block 44 (603 1 Street) | 8,252 sq. ft. | NOW $59,084.32 |
| Lot 42, Block 33 (292 8 Avenue) | 13,100 sq. ft. | NOW $93,796.00 |
| Lot 41, Block 33 (294 8 Avenue) | 9,472 sq. ft. | NOW $67,819.52 |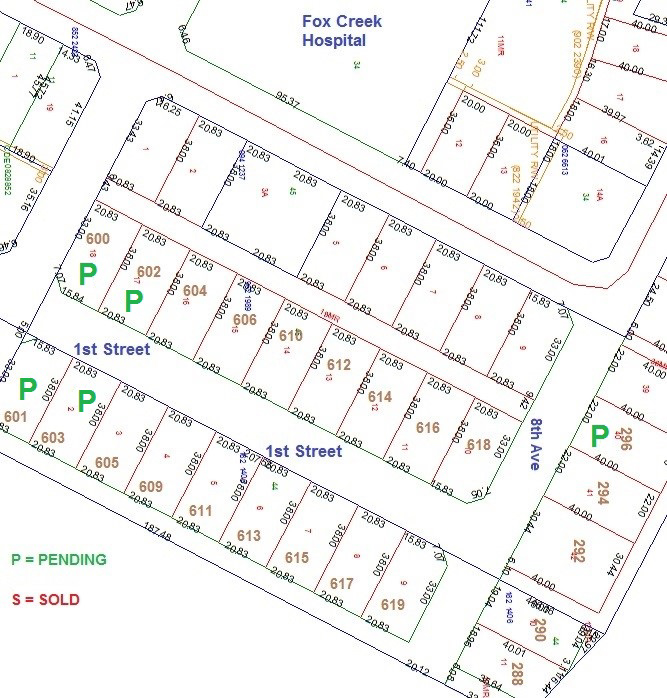 Contact
Planning and Development
Town of Fox Creek
PO Box 149
Fox Creek, Alberta
Tel: (780) 622 3896
development@foxcreek.ca
909-7th Avenue
Lot 33, Block 23, Plan 832-0579
+/- 7,129 ft2
$ 32,080.50 exclusive of GST
907-9th Avenue
Lot 32, Block 23 Plan 832-0579
+/- $7,146 ft2
$ 32,157.00 exclusive of GST
If
If you are interested in more information or want to purchase one or both of these lots to construct a single family dwelling, please contact:
Town of Fox Creek
102-Kaybob Drive
PO Box 149, Fox Creek, AB. T0H 1P0;
email: cindy@foxcreek.ca
Tel: 780-622-3896.
The Town of Fox Creek currently has 156 acres of residential and commercial land available for development located behind between our current arena and the North Road. Please see map below for zoning.
If you have any questions please contact the Development Officer or Chief Administrative Officer at the Town Administration Office at 780.622.3896.