On December 11, 2017, Council approved a Motion to begin the Snow Removal Pilot Project, effective immediately.
What is the Snow Removal Pilot Project?
A modified procedure for removing snow from town streets, for a trial period, to evaluate the projected cost savings and anticipated benefits.
The Public Works staff are attempting more efficient means of winter road maintenance. Changes will involve procedures different than those that residents are accustomed to.
For more information contact:

John Greathead,  Public Works
Phone: 780-622-3896
Email: john@foxcreek.ca
Operations
Phone: 780-622-3896
Email: operations@foxcreek.ca
How is this different?
The Town will implement alternate side parking. Residents will notice green traffic delineators along the curb line on some of the roads. Alternate side parking designates car parking on one side of the street, or the other, in advance of next anticipated snow event. The Town intends to provide 24 hours notice.
Designated side parking enables efficient traffic flow while allowing snowplows to reach the curb without parked cars impeding their progress.
When it is prudent to do so, snow will be plowed from the center of the roadway, operators will plow as much snow as possible to one side and, where feasible or necessary, onto residential properties. Improved efficiency and reduced costs will be achieved by not trucking as many loads of snow away.
Operators will follow up with smaller equipment to clear the sidewalks, and remove windrows from driveways within two hours.
The traffic cones and signage will then be moved into new areas once the priority streets are cleared.
Why the change in procedure?
Cost savings: Snow removal is labour intensive and time sensitive. Alternate-side parking and not hauling away all snow, could reduce snow removal costs by an estimated $15, 000 per snow event.
Efficiency: Clearer roads and sidewalks, quicker.
Safety: Vehicles parked on the roads impede the equipment. One side parking expands maneuvering space for snow removal equipment. "Parking on both sides of the streets is a real hindrance," said John Greathead, Public Works. "For effective winter maintenance, we need at least one live lane to work in."
How will I know when I can park where?
Public Works staff will post temporary, No Parking-Snow Removal, signs and green traffic delineators on one side of the street before the next significant snowfall.
Residents can expect at least 24 hours notice to allow for the removal of vehicles.
What might happen if I park in a designated no-parking area?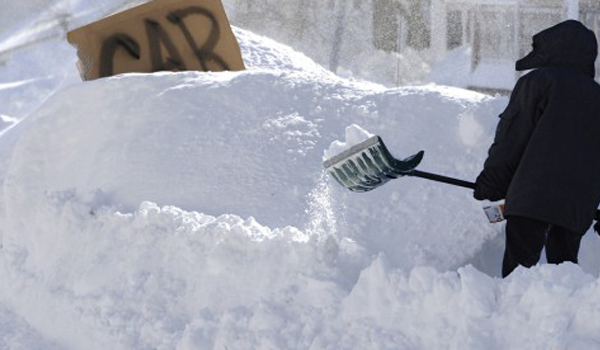 Source: https://s3.amazonaws.com/media.wbur.org
It has been noted that many vehicles parked on the roadsides have not moved in several months, we will be working to have these ticketed, towed and impounded, failing that we will plow them in completely.
See you in May!
Snow removal is costly and time consuming. Residents are asked to cooperate with these guidelines to assist the Town improve and evaluate the snow removal process. Please be patient and give workers and equipment plenty of space to perform their duties.
"Please bear with us as we go through our growing pains, I am certain once the bugs have been worked out, this approach will be quite successful."
John Greathead – Public Works
What to expect.
1) Snow will be placed on residential lawns when and where it is necessary to do so.
2) The windrows from snow plowing will be cleared when there is a substantial amount, and may not happen every time a plow goes by.
3) Sidewalks will be cleared, but, ultimately it is the homeowner's responsibility to maintain their walkways.
4) Sand and gravel that accumulates on the sidewalks will be swept off in the spring.
5) What about shrubbery or landscaping close to the sidewalk, on my property? Home owners can "flag" or cordon off those areas and equipment operators will respectfully avoid them.
6) Will my small yard become overwhelmed with snow? Public Works will make every effort to disperse and pile snow reasonably. The amount of snow accumulated will differ from snow event to snow event and year to year.
Priority Plow Routes:  No change. The streets are plowed and sanded in order of priority. Main roads are cleared first, side streets, light commercial and residential areas next.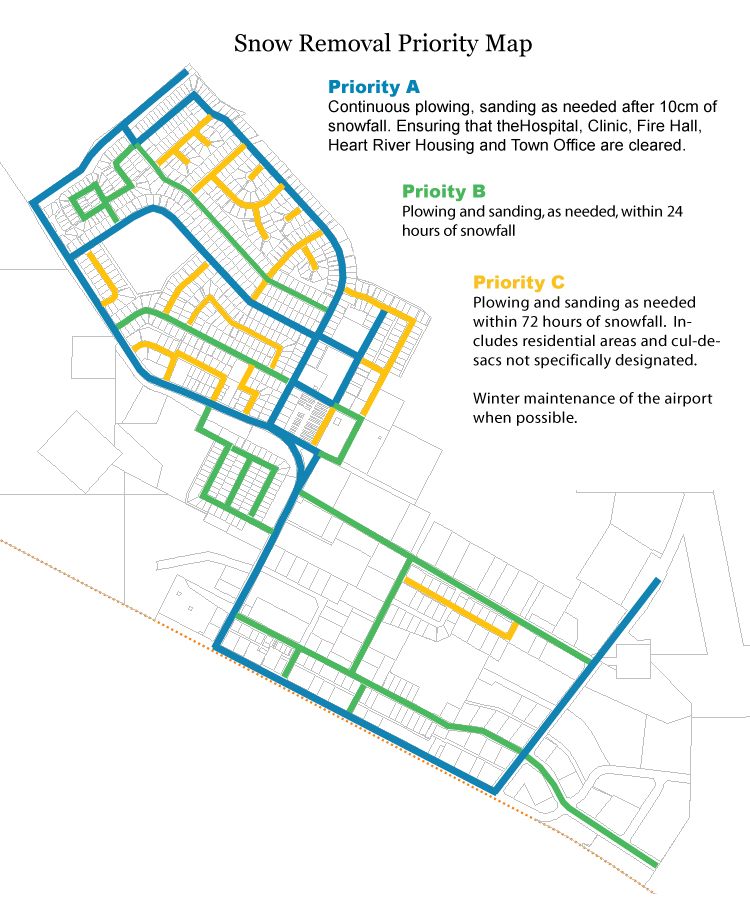 Sidewalks: It is the responsibility of the property owner to clear snow and ice from the sidewalk adjacent to the property within 48 hours of the snow or ice event. Side-walk and driveway snow can not be shoveled onto the road, it must remain on the property.
What does it cost?
Typically, when snow accumulates to a sufficient level the snow removal operations begin. This entails two of Fox Creek's larger pieces of equipment, two trucks, an outside contractor and 5‐6 staff for 5 days.
$8,000.00 (higher cost as there is actually 2 separate pieces of gear used)

Total Cost of Snow Removal

Add Sidewalk Clearing
140/hr X 14

$1,960.00 (allow for 2 sidewalk cleaning per snow event)