Our Fourth Annual FUN RUN, 50 Anniversary Homecoming Dinner AND Aaron Pritchett concert


AARON PRITCHETT
2017 CCMA nominee, Aaron Pritchett, performing live at the Silver Birch golf course.
"I love being able to have that one on one connection with my fans", says Pritchett. "I can't say enough how fortunate and honored I am to be a part of country music in Canada."
Tickets available at the Town Administration Office.
Venue access map.
Restrictions apply.
Parking available at the school.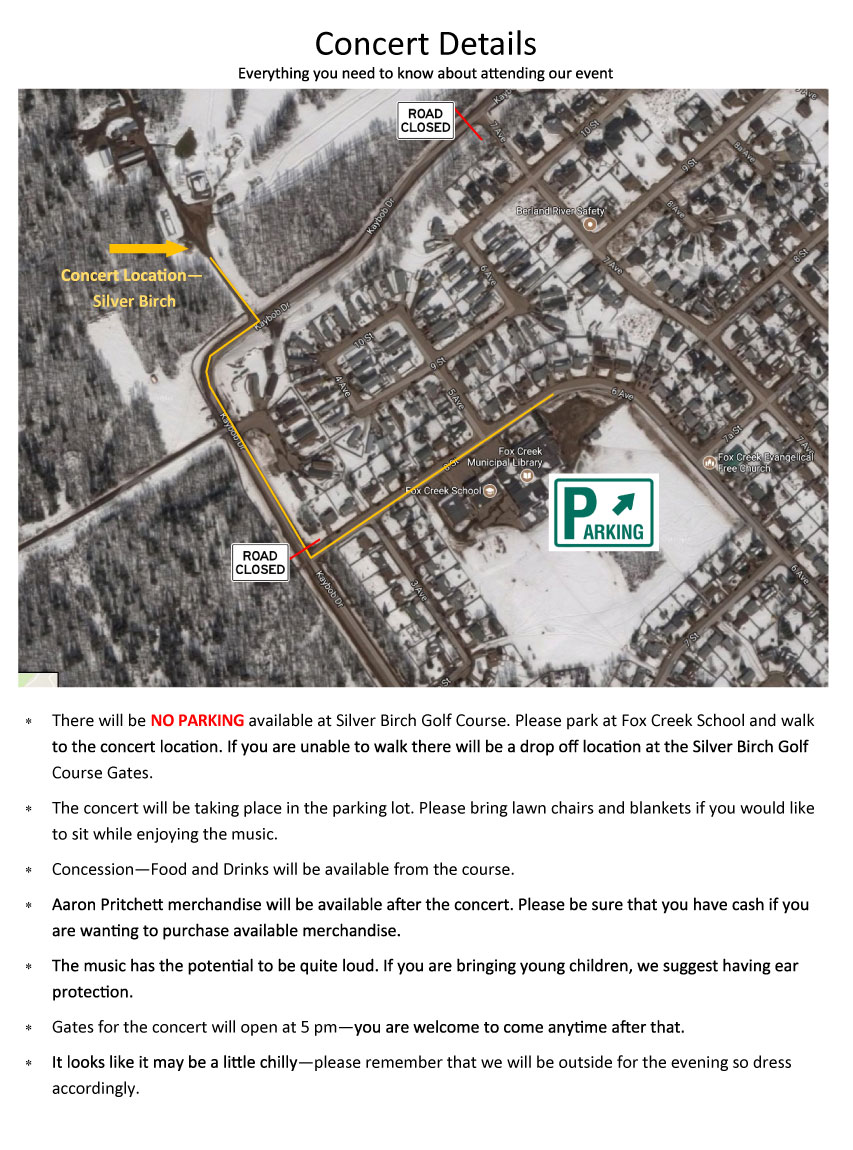 ---
FUN RUN
To celebrate our 50th Anniversary this event will be BIGGER AND BETTER!
Our Start / Finish lines will feature a free BBQ sponsored by SemCAMS, two 72 foot long inflatable obstacles as part of the run, face painters, a mini putt course, bouncy houses, a baseball pitch tracker, caricature artist and more. Fun for the entire family!
Join us for this amazing event!
Please register at the Town Administration Office.
---
DINNER
Head to the Community Hall to celebrate everything Fox Creek. We will have an exceptional event planned.
Tickets are $10.00 each.
Cocktails – 5:00 pm
Dinner – 6:00 pm (Menu: Prime Rib, Creamed Chicken, Cheesecake)
Celebration / Dance after Dinner
This is an outdoor venue event. Business casual and weather appropriate attire recommended.
---
Feel free to share these events with people who used to live here, family, friends who come and visit or just someone who is interested in celebrating with us – everyone is welcome.
Already, we've had an overwhelming response to these event invitations. Registering for the FUN RUN, and picking up your Homecoming tickets, early will assist us in estimating anticipated attendees.

If you require more information or have noticed a specific detail we could clarify, please let us know in the comments section and we'll respond as quickly as we're able.

Update September 10, 2017: The Homecoming Dinner venue has been moved INDOORS. Dinner will be served in the Community Hall.
---
Let's Celebrate Our Sponsors