Fox Creek Food Bank Society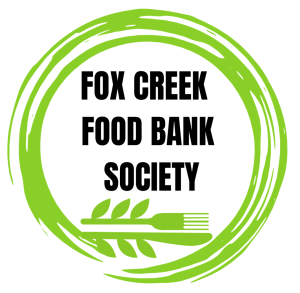 The Fox Creek Food Bank prepares food orders on Tuesdays and Thursdays.
If you are in need of the Food Bank, please call at least one day in advance.
** If you call on a Tuesday or Thursday to receive a hamper for that day, please call before noon.
Food Bank is "PICK-UP" only and the following information will be required:
Full residential address (with proof at pick-up)
Names and Ages of all adults living at the residence
Names and Ages of all children living at the residence
Proof at pick-up of all individuals living at the residence (identification card, health care card, etc.)
Pick-up is 3:00 pm.
Community Resource Centre
103 – 2A Avenue Fox Creek, AB, T0H1P0
For more information, please contact Roxanne Grumbach at admin@foxcreekcrc.ca
780-622-3758
Food Bank Wish List
Alpha-getti
Pancake mix
Pancake Syrup
Canned Stew
Sugar
Cereal
Pasta / Pasta Sauce
Coffee
Cheese Whiz
Peanut Butter
Rice
Tuna
Canned Fruit
Canned Vegetables
Canned Meat
Brown Beans
We appreciate all donations! Thank you.