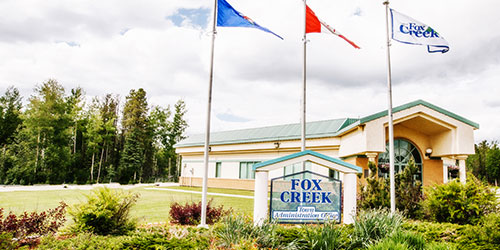 Welcome to the TOWN OF FOX CREEK
A Citizen focused vibrant sustainable community, embracing diversified partnerships and building upon small town family values.
Fox Creek is a citizen-focused vibrant and sustainable community, embracing diversified economic partnerships and prides itself on small-town family values. The Municipality of Fox Creek is a vibrant and bustling hotbed of economic activity in the heart of the Duvernay. Known mainly for its bountiful wilderness, Fox Creek showcases the very best of the surrounding forests, lakes and wildlife, making it the perfect location for enjoying the outdoors. Fox Creek combines a serene wilderness experience, with small-town hospitality, first-class amenities, and a reliable service centre for the active oil and gas industry surrounding the community. Fox Creek is a great place to call home.
News & Announcements
Gillian
The Town of Fox Creek recently received a letter from our fellow municipality the Town of Ponoka regarding concerns over disproportionate funding for rural small businesses during the COVID-19 pandemic. Their ultimate request for support in voicing these concerns is easily provided as this is an issue also realized by ourselves. [READ MORE]
Gillian
For those who may have missed the Regular Council Meeting, the highlights are NOW available. [Click Image to Continue Reading]
Gillian
  To Download the Regular Meeting Agenda: Click Here Join via Zoom https://us02web.zoom.us/j/83351692130 Meeting ID: [...]
Public Notices
Gillian
Property Assessment and Tax Notices for 2021 were mailed on June 18, 2021. Any landowner who has not received their notice is asked to notify the Town during business hours.
Gillian
With a minimum 60% of Albertans aged 12 and up having received their first dose of the COVID-19 vaccination, the Government of Alberta has permitted the province to enter Stage 2 of reopening beginning June 10, 2021. [Read More]
Gillian
We are seeking 20 individuals who would like to have their residence sampled for lead content. The results of this information will be shared with the homeowner and AEP.