NOTICE OF PUBLIC HEARING
Land Use Bylaw Amendment 824-2018-A06
The Town of Fox Creek will be holding a public hearing to discuss:
Land Use Bylaw Amendment Application 824-2018-A06
The Town of Fox Creek annexed lands from the Municipal District of Greenview on December 14, 2022, and the lands acquired need to be zoned (Part 15, Land Use Districts Map, page. 155).
The Town is also proposing some additions to the conditions for Solar Collectors, Major developments (Section 9.4.2, Solar Collectors, Major, pages 38 & 39).
Additional information is proposed to be added to the Offences and Penalties (Section 7.3.3 Offences and Penalties, page 23).
Proposed clarification of the age of the moved-in building to be considered by the Municipal Planning Commission (Section 9.2.1, page 36).
In accordance with the Municipal Government Act, a Public Hearing to review the Bylaw Amendment in public will take place prior to giving the 2nd and 3rd readings of the Bylaw.
The Public Hearing will be held at:
Fox Creek Greenview Protective Services Bldg.
108 Kaybob Drive, Fox Creek, AB.
Tuesday, February 27, 2023, at 6:00 p.m.
You may attend in person or VIA ZOOM.
The zoom link will be accessible from the Town of Fox Creek Website www.foxcreek.ca.
A copy of the Draft Bylaw and Amendment Bylaw are available to review at: the Town of Fox Creek Administration Office, which is located at 108 Kaybob Drive and is posted here. And here.
That Part 15. Land Use Districts Map Lot 1, Block 3, Plan 192-2148 be amended from Urban Reserve (UR) to Light Industrial (M1) and Direct Control (DC) as noted on Schedule "A". (See Page 155 of the proposed LUB Consolidation).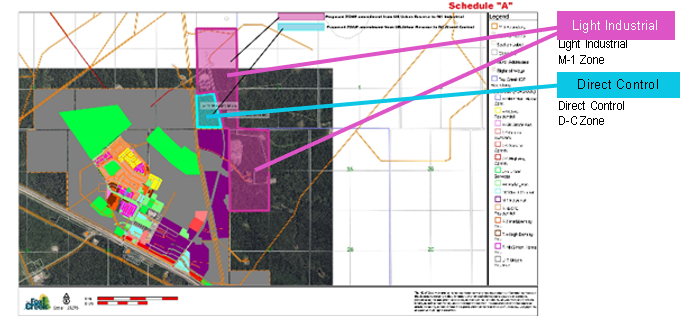 That Section 9.4.2 Solar Collectors, Major be amended to include:
9.4.2
That there shall be a minimum distance separation of 300.0 metres between any Solar Collector, Major development, and the boundary of a multi-parcel residential subdivision.
The applicant shall provide the following information with their application:
Drainage plan, showing that drainage will be contained on site and that adjacent water bodies will be adequately protected from runoff.
Solar Collectors, Major spacing must provide adequate access for firefighting of both forage and electrical fires.
Information on the potential impacts of solar glare on surrounding land uses and roadways within 800 metres of the boundary of the solar collectors shall be provided.
Information on potential impacts on the local road system including required approaches from public roads.
Information regarding public safety and security measures.
A suitable security fencing must be installed around the development.
Landscaping and screening measures including a tree buffer along the main roadway abutting the property must be taken to minimize any adverse visual impact on nearby residences and public roadways.
A weed control plan shall be submitted to the satisfaction of the municipalities weed inspector.
Applicants shall provide information on decommissioning and reclamation plans that outline how sites will be returned to their pre-development state as required by the AUC, demonstrating that sufficient funds are available at the end of life to cover the cost of decommissioning and reclamation.
The Development Authority may require that the applicant conduct and document public engagement prior to submitting a Development Permit Application for Solar Collectors, Major use if, in the opinion of the Development Authority, the development may present a significant adverse impact to nearby Residential or Commercial properties. (See Pages 38 & 39 of the proposed LUB Consolidation).
That Section 7.3 Offences and Penalties be amended to include:
7.3.3        a. In the case of an offence that is of a continuing nature, a contravention constitutes a separate offence in respect of each 14-day period, or part of a 14-day period, on which it continues and a person guilty of such an offence is liable to a fine in an amount not less than that established in this bylaw for each 14-day period. (See Page 23 of the proposed LUB Consolidation).
That Section 9.2.1 Relocation or Demolition of Buildings be amended to include:
A development permit shall not be issued for the placement of any unit that was manufactured more than fifteen (15) years prior to the application for a permit.
That 9.2.1 d, e, f, are renumbered, e, f, g to reflect the above-noted insertion of d. (See Page 36 of the proposed LUB Consolidation).
Please contact the Administration Office at 780-622-3896 or email development@foxcreek.ca if you have any questions or concerns, or would like a copy of the draft bylaw forwarded to you by email.
Downloads:
Draft_Bylaw 824-2019_Land Use A06 Consolidation
Draft_Bylaw 824-2019-A-06 Land Use Bylaw Amendment Zoning