Public Hearing – Land Use Bylaw Changes and Additions SUMMARY
This is good news for Industrial property owners and community members experiencing RV parking challenges.
We are proposing four main welcome and long-awaited changes to our bylaws.
Landowners may, upon a development application and the discretionary decision of the Municipal Planning Commission (MPC), be allowed to accommodate individual camp workers or large short-term crews, and/or build long term revenue-generating camp facilities on industrial zoned property. The bylaw aims to provide the options and flexibility to help meet your staff or crew accommodation needs. Although this provides appealing opportunities to landowners, please keep in mind that site improvements may mean increased assessment value.
In addition, we've added solar panel installation options for both small ("minor") or larger ("major") generation collectors. Minor solar installations are approved for small or minor generation in all zones. Larger production projects in industrial zoned areas will require approval by the MPC.
This proposed Land Use Bylaw also cites that garbage and garbage collection areas, in the industrial district, be located at the rear or side of the property (where possible). Where there is no access to the rear or side of the principle building, the garbage collection and storage area may be permitted in front provided it is screened, fenced, or treed to camouflage the area from public view. Basically, all we are hoping to achieve is for our industrial streets not to be lined with garbage bins.
The last of the four main changes proposes allowing RV parking pads in residential and industrial areas providing there is enough room on your property, the pad is well constructed, maintained, and does not become unsightly.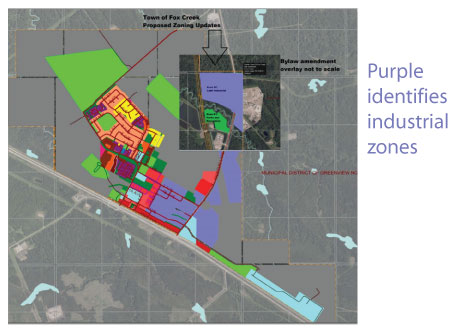 The approval body, the Municipal Planning Commission, consists of two Council members and four community members at large. This is a long-established board which is tasked with the responsibility to consider discretionary use decisions on behalf of the community.
These changes and additions address some ongoing challenges and provide timely opportunities for our unique and evolving community.
Details and copies of the changes AND the Public Hearing Notice are available at the following links.
Notice  of Public Hearing Land Use Zone amendment
Draft Bylaw 824-2019_Land Use consolidated with amendment A-01-A-05
Zoning map
Should you have questions, concerns, or wish to show your support for the proposed bylaw changes and additions, a public hearing will be held:
Fox Creek Greenview Protective Services Bldg.
108 Kaybob Drive, Fox Creek, AB.
Monday, September 6, 2022, at 6:00 p.m.
You may attend in person or VIA ZOOM.
The zoom link will be accessible from the Town of Fox Creek Website www.foxcreek.ca