May 26
8:20pm- The Alberta Emergency Alert that went out DOES NOT include the Town of Fox Creek. We remain on an evacuation advisory, please be ready to leave with short notice, if conditions change.
There has been no significant growth on either fire the last couple of days. The conditions remain favourable for crews to continue to work on achieving full containment on the fire guard and extinguishing hot spots. The fire continues to be supported by forestry firefighters, air, heavy equipment and the army.
If there are changes, we will be sure to post them here. Please follow this page for the most up to date information.
7:15pm – It is anticipated that town facilities, and many local business, will be open on or before Monday, May 29, 2023.
The Town is Intact.
Welcome Home.
Stay Safe.
7:30am – This was prepared for the digital billboard and intended to run throughout the week. Better late than never and maybe even more poignant than ever.
May 25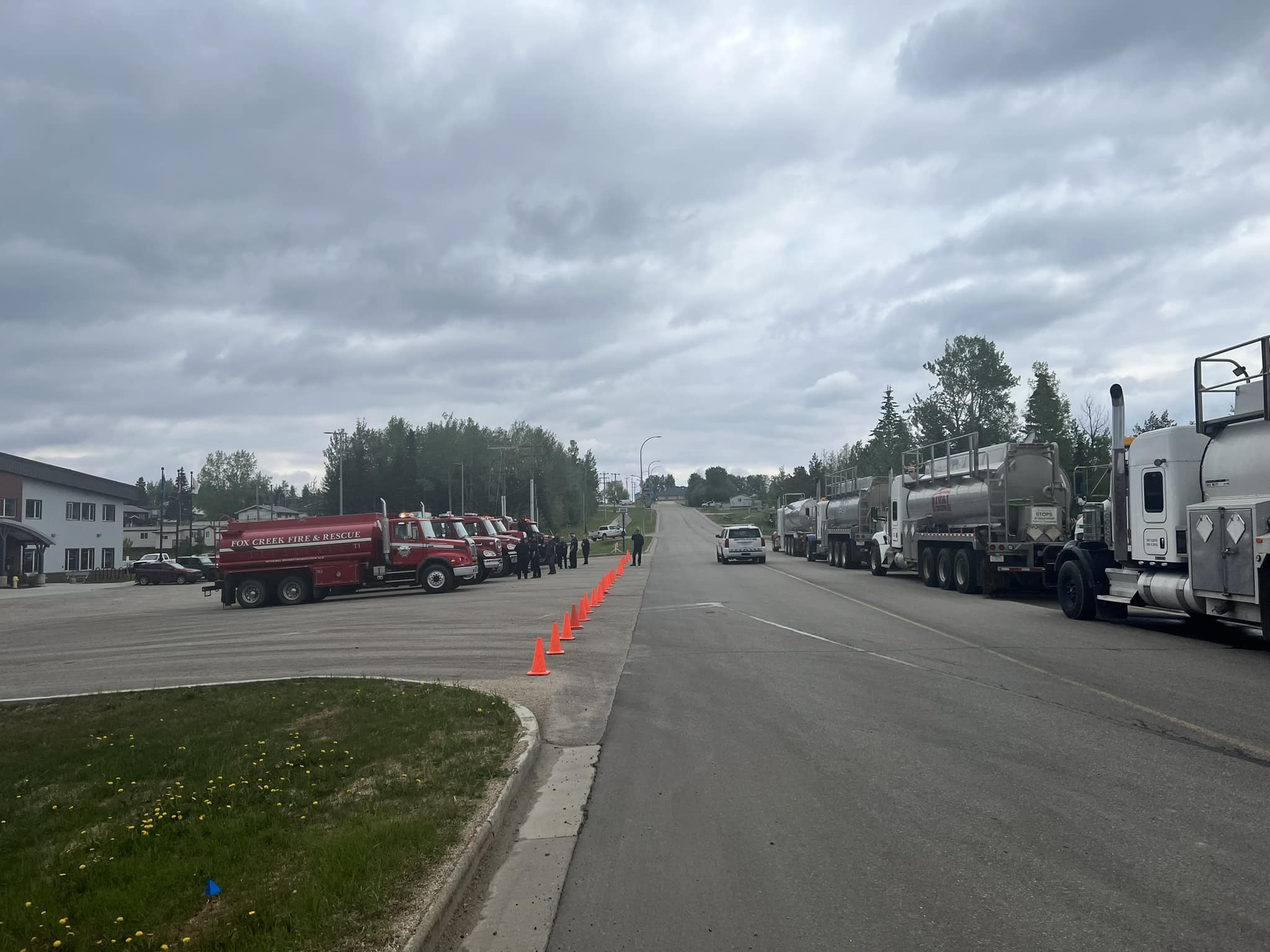 6:00am – Welcome home Fox Creek, we are so happy to see you!
Welcome Home Reception , Kaybob Drive May 24, 2023.
May 24
10:00pm – We have scheduled extra garbage pick ups this week. ALL garbage will be picked up both tomorrow (Thursday) and Saturday..
Recycling will also be picked up on Saturday.
Regular scheduled pickups will resume next week.
The transfer station and landfill will resume regular hours starting tomorrow.
We are so happy to have you back!
4:00pm –  The Welcome Home information package can be downloaded here.
.
.
.
.
.
.
12:30pm – High River Deputy Fire Chief Steve Debienne

Fox Creek Fire Thank You from High River
.
10:00am – As of 12:00 pm, May 24, 2023, the evacuation for the Town of Fox Creek will be lifted and community re-entry can now occur safely.
There are still 2 active out of control wildfires very close to Town. The community will remain under an evacuation alert. Please be ready to leave on short notice should conditions change in the coming days.
As of 12:00 pm all residents are able to return to the evacuated areas. Please do NOT attempt to return home prior to this time. You will not be allowed in, nor will you be allowed to line up on the highway, you will be asked to proceed elsewhere.
BEFORE you come back to the community, please ensure you do the following as resources and supplies may be limited:
– Fill up your vehicle with fuel
– Pick up a few days' worth of groceries
– Empty trailers before returning to town – there will only be one dump station available.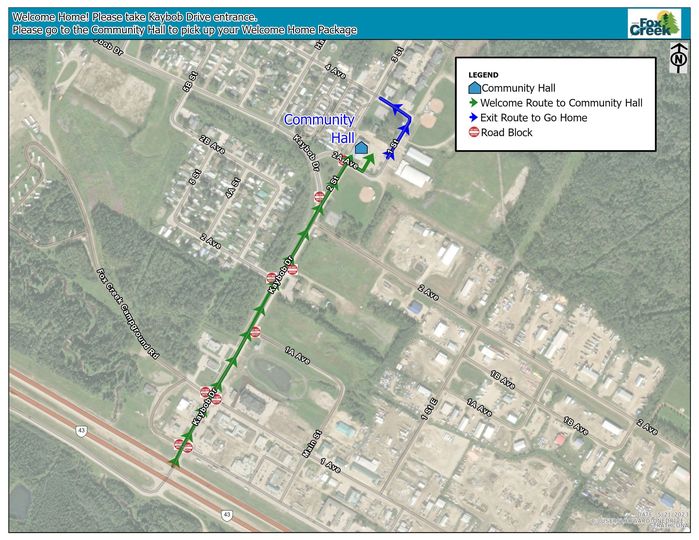 Please refer to the map for details on re-entry. All residents will be required to check in at the Fox Creek Community Hall. Once you have checked in, you will not have access to downtown until most residents have returned. Roadways will be opened up again for normal traffic flow at 9 pm.
Firefighting work will continue on the Eagle Fire Complex. These efforts are to maintain fire containment guards and to address priority hotspots.
Thanks to the work of many utility service providers, critical infrastructure repairs were completed and there are plans in place to support emergency response during community re-entry.
The Fox Creek Hospital will be open and EMS services remain available in the community.
Those with a medical condition, concerns or who anticipate a need for the emergency department should choose to delay their return until full hospital services resume.
The hard work and dedication of our emergency personnel and first responders have made this re-entry possible earlier than initially anticipated.
To prevent traffic congestion and collisions, residents are asked to obey all traffic laws and posted signage upon entering the community and follow the route posted below. Do not slow down or stop on the roadway to observe different areas and please use caution as crews continue to work in the area.
A detailed COMMUNITY RE-ENTRY INFORMATION BOOKLET will be available at the Fox Creek Community Hall, everyone must check in there. We strongly encourage that you read the booklet.
Welcome home Fox Creek, we are so happy to see you!
May 23
9:00pm – Consecutive days of heavy rain are bringing relief and optimism to Alberta, where the precipitation has helped extinguish the province's dozens of raging wildfires.
9:45 am-  Fire operations will proceed as they did yesterday with crews continuing to work towards achieving full containment on the fire guard on both fires.
We received a good amount of precipitation over the last 12 hours which has allowed us to continue to move forward with our re-entry plans.
Essential workers have been identified and are being brought back into the community to prepare for re-entry for our residents.
The area is still experiencing heavy smoke due to the ongoing wildfire. If you have medical concerns, we advise taking necessary precautions or delaying entry until air quality improves. You can find current Air Quality information at: Canada Air Pollution | IQAir
https://www.iqair.com/ca/canada
A state of local emergency remains in effect for the Town of Fox Creek.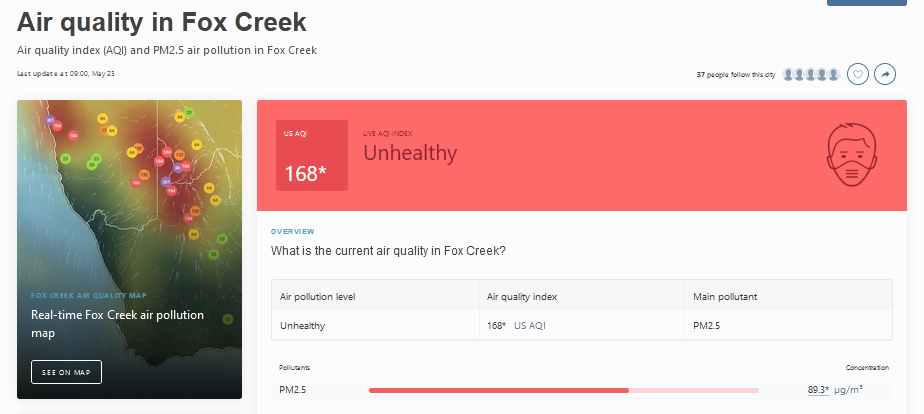 May 22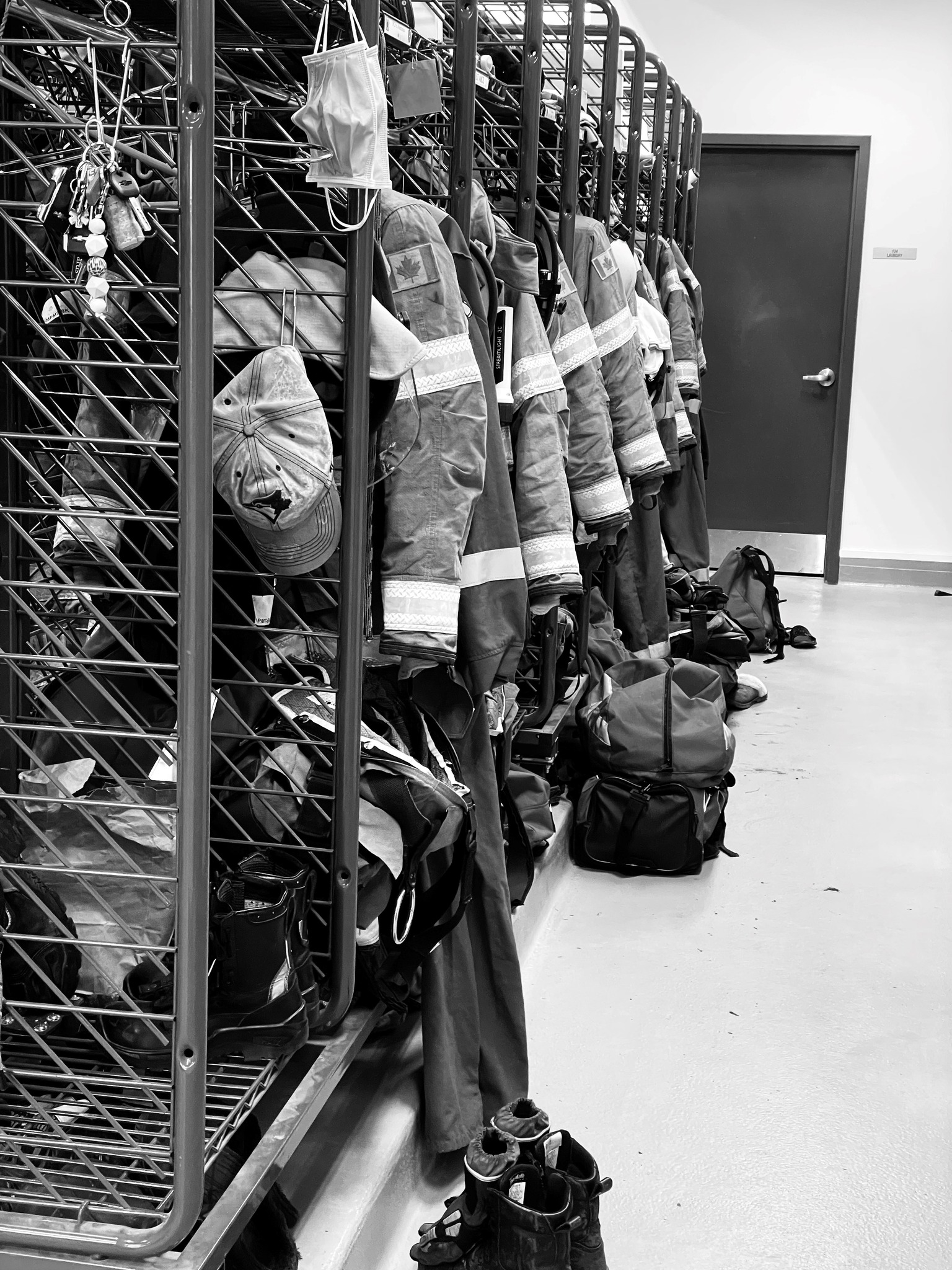 6:50 pm-
On May 18, 2023 Wildfire WWF-023 and GWF-027 were joined together to form the Eagle Complex WCX001. Both fires are being monitored for potential impacts to the community.
Both of the fires remain out of control. WWF-023 is 72,830 ha and is within 1 KM of Fox Creek, 6 KM of Canfor Mill, and 10.5 KM of Little Smoky and Wildfire GWF-027 is 54,274ha and is approximately 20 KM from the Town of Fox Creek on the West side of Highway 43.
Firefighters have been taking advantage of the quieter fire behaviour to reinforce the guard west of Fox Creek and to build new line along the southern edge of the excursion that crossed Highway 43 West of Fox Creek. Heavy equipment will also be working guards north of Fox Creek to remove hazardous trees that have had their root structure compromised by the fire – these trees have a greater chance of being blown over posing a significant risk to firefighters in the short term and residents of the community going forward.
There are 164 firefighters and support personnel allocated to this fire along with the Fox Creek Fire Department.
It is expected that dozer groups will be moving to GWF-027 to begin building containment lines.
Plans are underway to re-open the community to the general public as soon as it is safe to do so. We expect to receive additional precipitation overnight, stay tuned to our social media channels in the morning for updates.
A state of local emergency remains in effect for the Town of Fox Creek.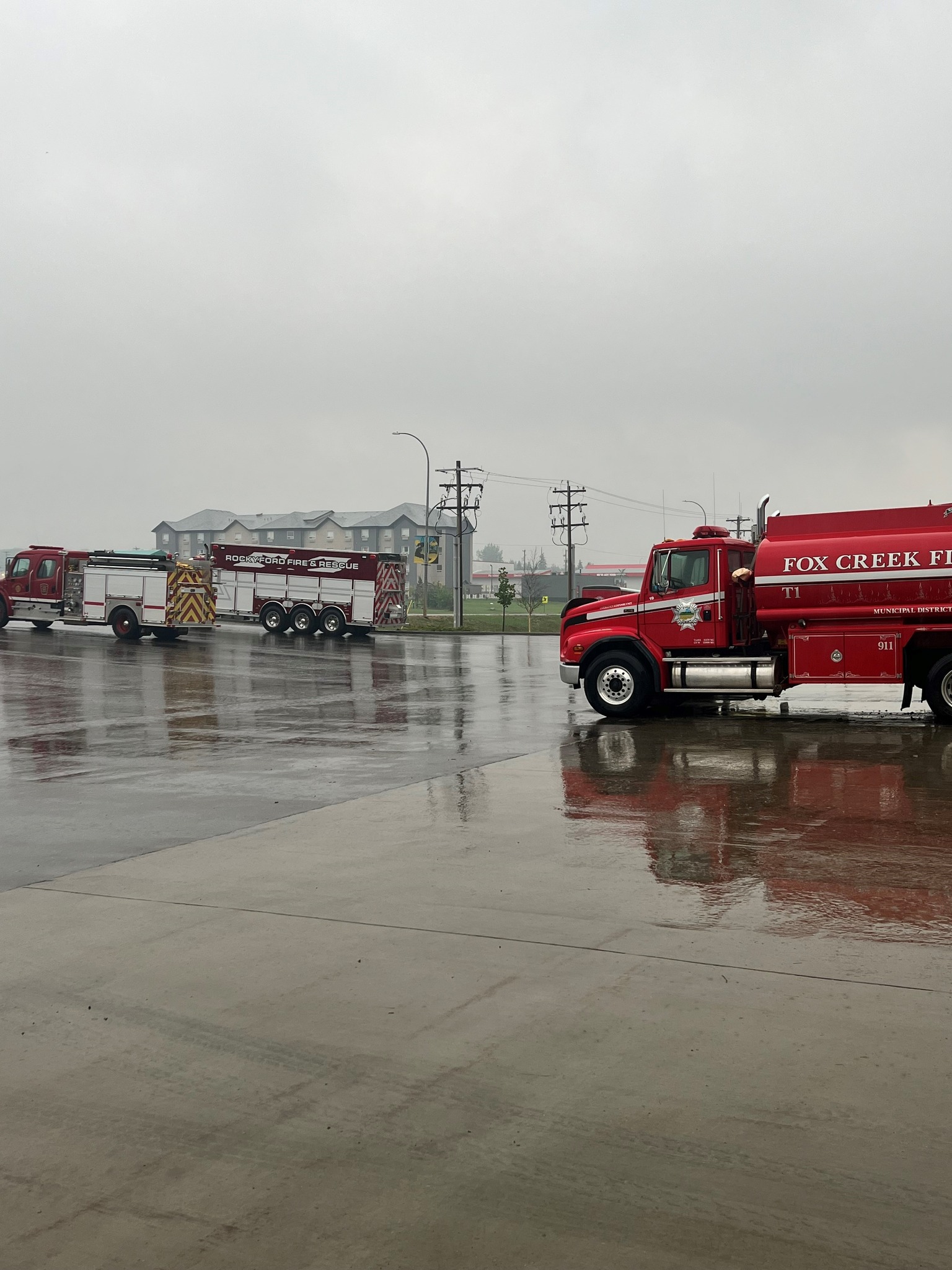 5:45pm- Approximately 12 select workers for critical infrastructure such as hospital, power and gas utilities, the grocery store and required municipal staff have been allowed entry into the evacuation area today under a shelter in place order to re-establish services in preparation for when it is safe to lift the evacuation order.
Plans are underway to re-open the community to the general public as soon as it is safe to do so. Triggers have been put into place that include the containment of the fire along the perimeter and received precipitation. At this time, we are still unsure of when those triggers will be met.
.
It is important that returning residents have access to these services prior to re-entry so the process is as smooth and hassle-free as possible, especially for those with additional needs.
We have still not received the forecasted amount of precipitation. However, it is currently raining in Fox Creek.
We hope to have more information soon.
10:40am – The Town is intact.
Crews continue to work towards achieving full containment on the fire guards around Town. The fire has not moved much the last two days because of the work the crews are doing in and around the community.
We have not yet received the rain that was expected overnight and this morning.
May 21
2:00 pm – Alberta Transportation Update: Highway 43 North will be opening at 1600 hrs (4:00 pm) with a speed reduction to 80km/h from Fox Creek to Little Smoky.
Active wildfire crews and utility repair crews will be working along the highway, please slow to 60km/h when passing crews.
May 20 The beginning of week three
9:00 pm
– Wildfire situation in
Fox Creek, Global National
Chief Davidson and YOUR gratitude messages make an appearance and a statement.
#foxcreekresources


6:10pm –The Town is Intact.
According to the Provincial Emergency Coordination Centre (PECC) the Fox Creek Fire and Little Smoky fire are 66,654 hectares and 28,959 hectares respectively.
From a fire fighting perspective the two fires will now be known by one name, The Eagle Complex.
The initial Fox Creek fire is within 1km of Fox Creek, 6km of the Canfor mill, and 10.5km of Little Smoky.
Dozer guards continue to do there job. Crews bolstered fire guards around Fox Creek; all dozer lines were widened by an additional 3 blade width.
The fire has not moved any closer to Town today.
Fox Creek is currently smoked in; air quality is poor.
Highway 43 will remain closed, due to poor visibility, until 7 am.
As for billboard messages several, though not all are running. And tonight Gabriel gets the last word.
.
(click image to enlarge)